Outperforming
with Quantamental
Using our proprietary technology, investors can outperform the competition thanks to better sector rotation optimization, identify market mood and select megatrends stocks or ETFs via our signals.
Awarded by Finance Innovation in the Assets Strategies & Allocations category.


Develop
We develop algorithms dedicated to outperform financial markets
Read more
Our algorithms combine many items including prices behaviour in both absolute and relative terms, a pattern library to identify ranges or trends, correlations with many macro elements, volatility and relative asset classes behaviour, as well as qualitative data including betas and financial metrics and proprietary ratings. Our approach is therefore multiple and diversified, as well as based on learning curve.
Track
We track equities & ETFs all over the world (long & short trades)
Read more
These combinations allow us to identify many investing opportunities via our signals to capture the « big picture » on a daily basis. This leads naturally to a « global macro » approach, or a transversal Equity strategy. Our screening tools also make it very easy to set strategies based on specific geographies, themes or sectors.
Analyze
We analyse what flows show
Read more
We do not « cover stocks » but aim to understand markets via our strategic signals, to monitor sector rotations and market phases via configurations analysis by index on a daily basis. Looking at signals for single stocks we identify the best opportunities, and propose it via a short investment case when needed.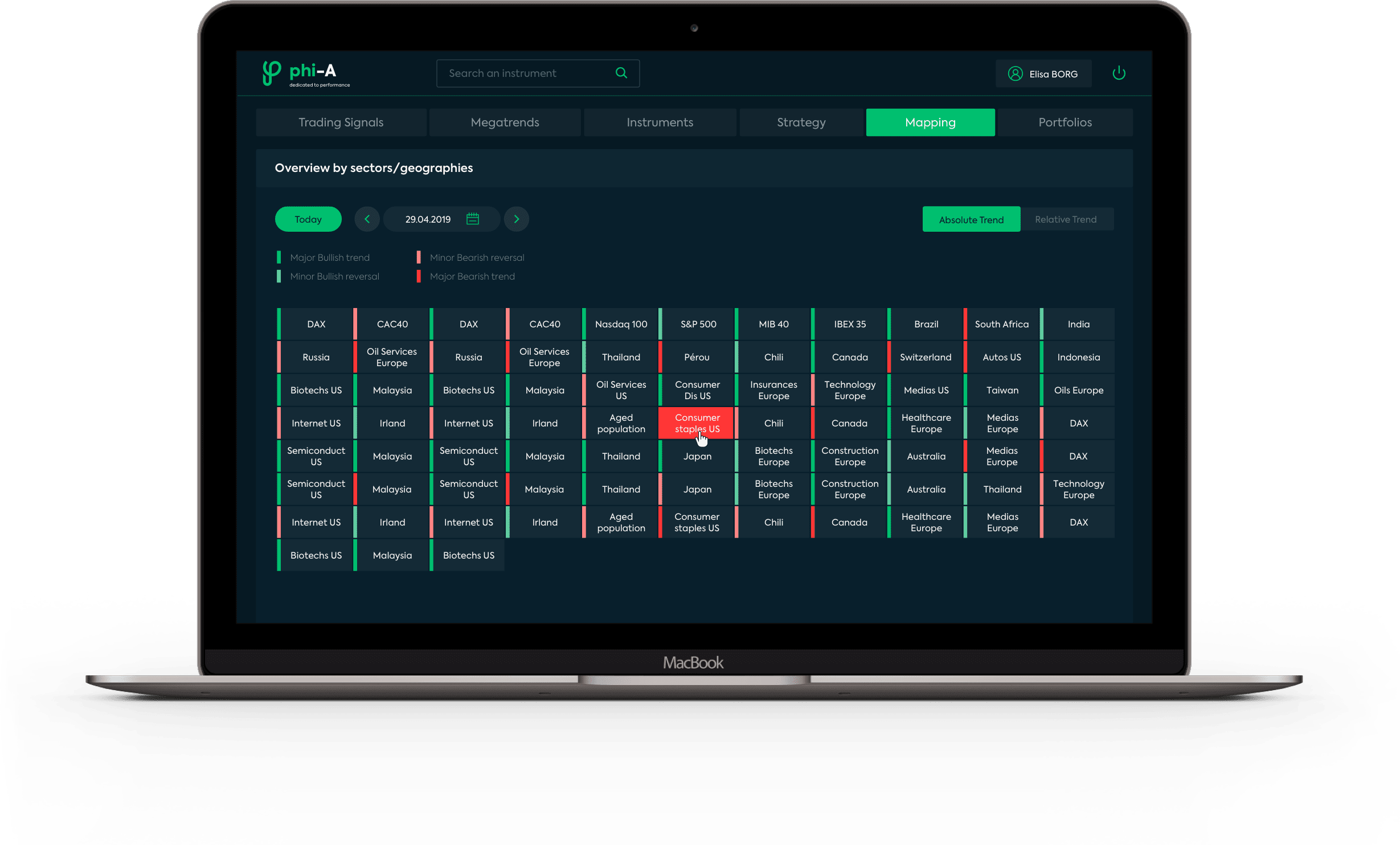 Phi-A is our platform, a proprietary technology designed for investors, to support them on their day to day decision making process. Customers can filter their investment universe via many standard criteria including geographies, asset classes, sectors, market caps coupled with proprietary ratings (volatility, risk, quality, valuation…).
Platform allows clients to check the track record (signal performance) for each single stock/instrument. Our backtests are available for the global investment universe and each instrument. Our signals are designed for different strategies including long only, market neutral and « Buy & Hold strategy ».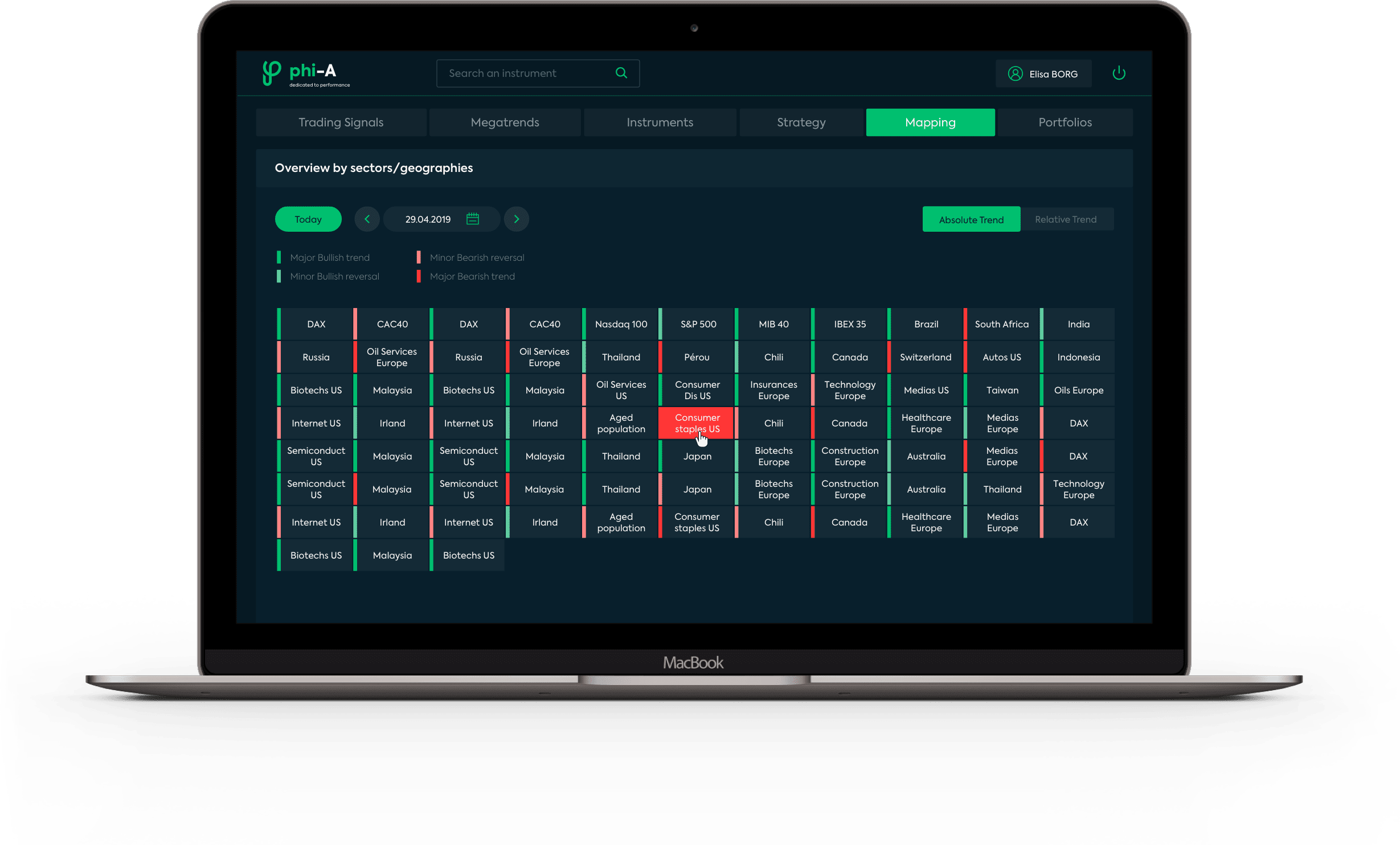 14574 Trading signals triggered since 02/01/2013
Average performance per trade: 12.5% for an average duration of 7.7 months.
6956 Megatrend signals triggered since 01/09/2011
Average performance per trade: 64.1% for an average duration of 26.3 months.
Tactical Europe Portfolio :
+4.4% since 01/01/2023,
performance (alpha) : -4.7% versus Stoxx600NR
Megatrend Europe Portfolio :
+9.5% since 01/01/2023,
performance (alpha) : +0.4% versus Stoxx600NR
Core US Portfolio :
+2.4% since 01/01/2023,
performance (alpha) : -7.5% versus S&P500
Strategic signal split (stocks only)
Enter Long : 7,740.0% of stocks with an « enter long » signal in process
Enter short : 1,140.0% of stocks with an « enter short » signal in process
No signal: 12,790.0% of stocks of which last signal is an « Exit Long » or « Exit Short »